Clubs : Giving a new direction to growth
No holistic development is complete without the active involvement of club activities in student life. The exposure to such activities has taken the growth of students to a new frontier. Acharya has established several clubs across all its conglomerate institutions to aid in this development. These clubs vary from nature clubs to psychology clubs to dance clubs to cine clubs and much more. Students on campus actively take part in these clubs and conduct events to engage students in various activities. The effort of the nature watch club through tree plantation, seed bombing, vermi composting, rainwater harvesting, etc., has been recognised by AICTE with the award for the second-best green campus. iCare has been actively undertaking CSR activities, from helping improve quality of life in villages to visiting old age homes and orphanages spreading smiles, the i-Care group of Acharya is one of the most socially active clubs in the city.
---
NCC
National Cadet Corps is popularly known as NCC, it is a student wing of Indian Armed Forces having headquarters at New Delhi. NCC is headed by Directorate of General at New Delhi. NCC has three wings called Army, Naval and Air Wing operates across India with 17 directorates. Directorates are divided into Groups, Battalion for the effective operations to accomplish the vision, It is also called as second armed forces. The Educational Institutions plays a vital in aligning NCC with Armed Forces. The Coys are headed by Associate NCC Officers (ANO) trained at Officers Training Academy (OTA) under Indian Army and commissioned as Lieutenant.

The NCC Coy of Acharya Institutes was established in the year 2012 under 9th Kar battalion of Bangalore B group- Karnataka Goa Directorate with the sanctioned strength of 108 Cadets and presently headed by Lt. Subramanyam B and Lt. Sowmya M A.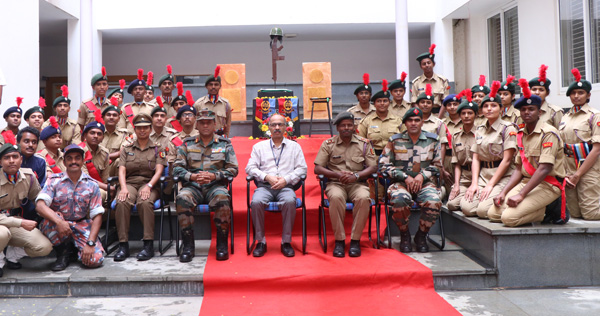 Acharya Institutes is a premier NCC coy in Karnataka and Goa Directorate by contributing towards the NCC and country through its cadet driven activities. Our cadets have represented Directorate in Republic Day Parade held in New Delhi in consecutive years. We are also proud that, our cadets have brought Awards in various prestigious camps and Competitions like TSC, IGC and so on.

Our institute has its foot prints in Armed services, our cadet Lt. Sachin Nair is presently serving in Indian Army. We also organize various annual NCC camps at our campus which helps our other students to learn and inculcate the motto of NCC - Unity and discipline. It also has its own aims and objectives to uphold the mission to reach the highest level.

Our NCC coy is nowhere lag in ISR activities. Cadets driven activities are organized on various cross cutting issues like Seed bombing, Awareness on EVM and VVPAT, Fire and Emergency services, patriotic programmes at Govt. Schools and Kargil Vijay Diwas to show tribute to the martyrs' of Kargil war.
Clubs
Clubs in Acharya are aplenty and their undertaking, a list too long. Here are a few clubs that are part of Acharya:
Nature Watch
i-Care
Yukthi Club
Zinios Club
Journal Club
Tech Minds
Lit Gen
Ruffles
International Relations Council
Model United Nations
Acharya Psychology Association
Student Nurses Association
Original nights
Original Nights is a stage provided by Acharya Institutes to promote originality of the students. We believe our students are creators and innovators, not just in the field of technology or business, but also in the areas of entertainment. Original Nights have encouraged students to explore and showcase their skills in short films, poetry, music, stand-ups, technology and much more. Acharya aims at helping our students reach stardom in every field they choose.
Acharya motorsports
This is where students with a common interest of steering the direction of travel to an efficient eco-friendly method have effectively been bought under the same roof to engineer innovation and promote ingenuity. The club has been represented across the country and around the globe in various competitions including SAE events that promote hybrid and electric vehicles gaining exposure to the future of the industry. The club is also supportive of racers who wish to excel on the track. Student Racers are given opportunities to take on various circuits around the country. Eligible candidates are funded by Acharya to take part in events.